VIP Taxis Galway can provide you with a Corporate Tailored Package designed to meet all your needs while on your business trip to Galway.
Fed up of keeping individual taxi receipts for your expense account? With our Corporate tailored package those days are gone.
We offer special rates to corporate customers who avail of this service.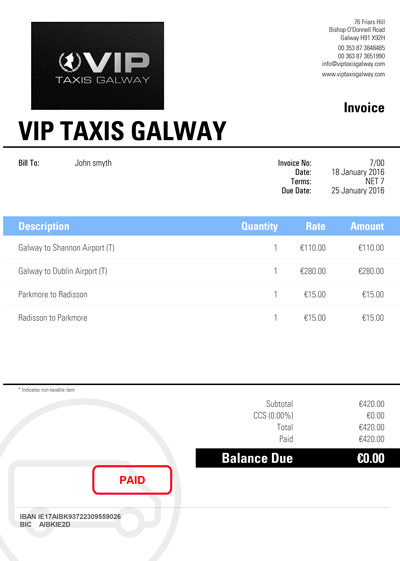 HOW IT WORKS
We will pick you up at any Irish Airport and transfer you direct to your hotel in Galway, and for the duration of your stay in Galway we will look after all your transport needs checking on a daily basis should there be any changes to your schedule.
We will furnish you with an itemised receipt at the end of your stay as per example shown.
Payment can be made with Cash or Credit card. We accept all major cards.
So take some of the stress out of your business trip, call or mail our booking team now.